PGA Championship 2017: Rory McIlroy has been dominant at Quail Hollow
admin
It is not a surprise that Open Championship winner Jordan Spieth has a co-favorite at this year's PGA Championship. What is a surprise is that the golfer he joins at 7-1 odds has one.
Rory McIlroy has won twice and lost in a playoff in his seven appearances at this course, which hosts the Wells Fargo Championship. He is 66 under in those seven outings for an average of nearly 10 under per year at a tournament where double digits under par is normally close to or enough for the win.
Here is a look at his score and achievements by year.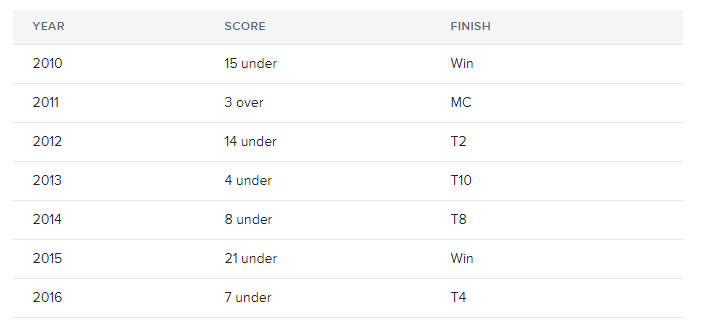 McIlroy holds the course record here with a 61 in the third round in 2015 when he went on to light up runners up Patrick Rodgers and Webb Simpson by a touchdown that year. It has been presumed since the announcement in late 2015 of Quail Hollow getting the PGA Championship that McIlroy would be the favorite at this event.
Ever since he shot 62 to win the 2010 event for his first PGA Tour win, McIlroy has been the best and most consistent player at this course. Throw in the fact that he feasts at PGA Championships (two wins and three other top-eight performances) and is coming off a top five at The Open, it's easy to see why there's so much hype surrounding him going into the week.
However, there have also been some course changes, which we looked at earlier. This not the exact same course McIlroy has beasted over the last decade. He's played the new track, though, and doesn't think it will affect him all that much.
"I got to hit some shots into certain greens and some of the new tee shots," McIlroy said last year of a scouting trip to the new Quail Hollow. "When I heard they were changing Quail Hollow, at the start, I didn't like it. I was like, 'What are you doing, I love this place, please don't change it.'
"But I think the changes are really, really good. It's made the first six holes a lot more challenging. Where in the past, you could get through the first six in sort of 2 under par, then you had loads of chances coming up, like 7, 8, 10, and all the way through on the back nine. Where now, you get through the first six holes at even par, you feel like you've played well."
He went on to note that we might not see some of the lower scores (like his 21 under in 2015) win this year's fourth major. This matches what Jimmy Walker said earlier this year about how because Quail Hollow brought in loads of bermuda turf, the course could actually get hard and fast. It could be one of the tougher tests of the year.
This is unlike a normal PGA Championship, but Quail Hollow is unlike a normal PGA Championship course. Its closing three holes are as tough as any in all of golf.
"I think the changes are really good there," McIlroy said. "They have definitely improved the golf course, I think. They have made it more challenging at the start, but I think the flow of the golf course is still the same, and they haven't tinkered with the finish, which is obviously one of the best finishes we play on Tour. I think the changes have been and I'm excited to get there next year and play it in a tournament."
The prospect of a McIlroy-Spieth showdown with the career Grand Slam on the line for Spieth at what amounts to McIlroy's home course is tantalizing. It might not come to fruition of course, but as soon as the last putt dropped at Birkdale, I was already envisioning what could be one of the great duels in recent major history.
So rarely do we get two all-timers duking it out for what could turn out to be a turning point in golf history, but we may get that chance next week in Charlotte. Everything is coming up Spieth right now. From the Tiger Woods talk to the Slam anointing.
But to lay claim as the youngest ever to win the career Slam, he'll have to roll right through what could turn out to be his greatest nemesis in major championships over the next decade. That person happens to be the best over the last seven years on the track Spieth needs to bag. Spieth may win the Slam this August, but he'll have earned it more than most.
Because beating McIlroy in a major is one thing but doing so at Quail Hollow is quite another.
More news and sports picks at Online bookie software